Y'all know what time it is. It's the most wonderful time of the year! And with the season of giving upon us, there's no better time to start crossing off the names on your Christmas list. But here at New Origin Shop, we're all about shopping small & local—even for the holidays.
So we've put together this Holiday Gift Giving Guide made up of small business vendors, artists, and entrepreneurs across the country (Yes, including yours truly). So if you're looking for Snuggies or Chia Pets, this is the wrong list. Handcrafted, one-of-a-kind goods? You're in the right place.
Before we get into it, we've provided a full list of all vendors that are mentioned below. You can find the list at the bottom of this post. There's a LOT of great folks to check out!
Alright, we know you've got a lot of shopping to do, so we've broken the list down into categories:
Stocking Stuffers
Gifts under $25
Gifts under $50
Gifts for Her
Gifts for Him
Gifts for the Little Ones
Gifts for the Home
Unique Gifts
Where you can Shop Small
STOCKING STUFFERS:
Hibiscus Steam - Our Village
Everyone gets stressed—especially towards the end of the year. This steam brings relief from stress and promotes relaxation and calmness for our mind but also our skin.
$14.00 Link to Store Page
Aromatherapy Oil Roller - New Origin Shop x Our Village
With these travel-sized oil rollers, you'll always have the perfect excuse to soothe, clarify, and rebalance yourself.
$12.00 Link to Store Page
GIFTS UNDER $25:
Crocheted Cinched Bow Ear Warmer/Headband - Knot in Texas Fiber Arts
Everyone needs a cute little headband to throw on as you walk out the door. And we don't know about you, but winter feels a little nippier this year.
$15.00 Link to Store Page
Abstract Art Prints - New Origin Shop
Add a little color to your desk, wall, or bookshelf with a 5x7 or 8x10 print.
$9.00 - $14.00 Link to Store Page
Mini Bronze and Black Wallet - Fringe & Flair
With its slim, gold button closure, this mini wallet slips easily into even the most compact carryalls. Hand-painted!
$20.00 Link to Store Page
Half Moon Clay Earrings - Wax and Wane Handmade
These earrings are great statement pieces yet incredibly lightweight and easy to wear. You will forget you have them on!
$20.00 Link to Store Page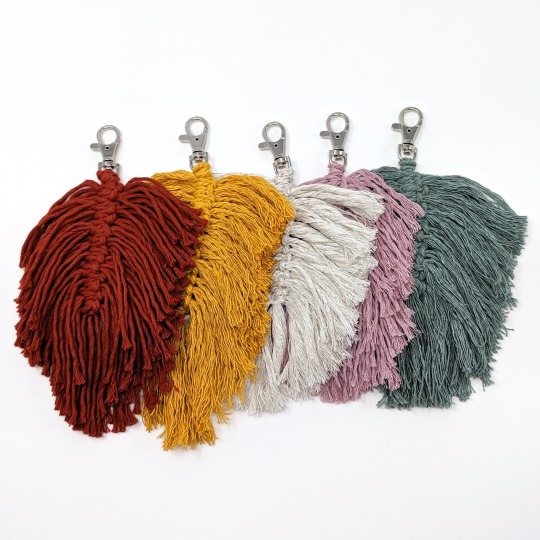 Macrame Feather Keychain - New Origin Shop
Macrame feather on keychain hook, the perfect size to add to your purses, bags, and accessories.
$20.00 Link to Store Page
GIFTS UNDER $50:
Esi Fiber Brass Earrings - New Origin Shop
Fiber and brass merge to create this statement silhouette while remaining super lightweight.
$40.00 Link to Store Page
Sodalite Pendant Necklace - Milk Moon
A high vibrational stone that carries calm and focused energy, Sodalite helps ease anxiety and balance your emotions.
$42.00 Link to Store Page
Salvatore Ferragamo Loafers - Sugar Woods Studio
Nothing beats an elegant flat. Salvatore Ferragamo brown leather loafers with fringe and bow detail.
$40.00 Link to Store Page
French Market Basket with Shoulder Strap - New Origin Shop
Handwoven palm leaves and double hand features make this style essential for your beach trips, market visits, and picnics.
$49.00 Link to Store Page
Cozumel Earrings - Bloom Studio
A small, minimalist piece inspired by adobe-style homes seen in Cozumel, Mexico. (Speckled White is pictured).
$28.00 Link to Store Page
GIFTS FOR HER:
Mountain Ring - Nina Berenato
Part of the Mother Collection—this ring represents Mother Nature and the female body. Various cultures around the world maintain the importance of mountain worship and sacredness.
$70.00 Link to Store Page
Sterling Heart Bracelet - Morgan Mars Vintage
Show a little love this season with this vintage sterling silver bracelet adorned with interlocking hearts.
$20.00 Link to Store Page
Capri Errand Dress
You ever just want to throw something on and feel comfy and cute all day long? Meet the Errand Dress.
$40.00 $85.00 Link to Store Page
Strengthen Leave In Conditioner Hair Care - Austin TX Hair Queen
Strengthening and conditioning leave in conditioner spray that creates shine without weight.
$15.60 Link to Store Page
GIFTS FOR HIM:
Blue Suede Slippers - New Origin Shop
A perfect comfy addition to your loungewear wardrobe.
$49.00 Link to Store Page
Matte Tiger's Eye Bracelet - Shop Rebel Soul
This bracelet is made up of Tiger's Eye beads. It's a powerful stone that helps you to release fear and anxiety and stimulates taking action.
$50.00 Link to Store Page
Lush Lagoon Bandana - TawaTies
For the outdoorsy, fashionable, (or just plain sweaty) type in your life. Bonus: Part of the proceeds goes to funding Palmetto State Park in Texas.
$25.00 Link to Store Page
Pit Kit - Quiet Cricket Studio
The deodorant is all-natural and the spritzer fights bacteria rather than masking it, leaving no odor once the essential oils have dissipated. Perfect for gym bags, bathrooms, lockers, or emergency use.
$20.00 Link to Store Page
GIFTS FOR THE LITTLE ONES:
Sassy Knit Swaddle Blanket - Lemon Drop
The lightweight and breathable swaddle blankets come in a variety of fun styles (Sassy style is pictured).
$24.95 Link to Store Page
Pacifier Clips - Lola's Classic Babies
These baby pacifier clips (some inspired by pop culture) are a fun solution to your teething baby.
$12.00 Link to Store Page
Children's Bow Ties and Hair Bows - Lola's Classic Babies
Lola's baby bow ties and hair bows are stylish accessories for your little model-in-the-making.
$5.00 Link to Store Page
Ice Cream Cone Teether - Lemon Drop
Made of food-grade silicone, this ice cream teether offers sweet relief for teething babies, with engaging textures on both sides.
$26.00 Link to Store Page
GIFTS FOR THE HOME:
Decorative Macrame Wall Feather - New Origin Shop
Add a little flair to your wall decor, framed-photo galleries, and nurseries. This macrame feather is handmade with cotton rope and a wooden bead.
$22.00 Link to Store Page
Botanical Dish - Herland Home
Organically shaped slab plates hand-formed from iron-rich Californian black clay. Each is pressed with botanicals (the Sage dish is pictured).
$24.00 Link to Store Page
Soy Candle - Flame Candle Company
Who doesn't love a good candle—especially around the holidays? This Texas-based company has an expanding selection of 100% hand-poured, essential oil-infused soy candles. Bonus: A percentage of the proceeds is donated to YWCA of Austin, TX.    
$14.99 - $24.99 Link to Store Page
Hand-Painted Cement Planters - Awkward Auntie
Upgrade from that plain terracotta pot with these beautiful cement planters. Trays and candle holders also available!  
$15.00 - $18.00 Link to Store Page
Mixed-Media Pop Art - Oso Art
These acrylic, mixed-media prints are on wrapped canvas and depict "boss babes" like Ruth Bader Ginsburg, Michelle Obama, Frida Kahlo, and Selena.
$115.00 - $145.00 Link to Store Page
Origami Map Paper Wall Clock - The Foxes Tail
Part of the National Park/Forest Series (Chaco Culture National Historic Park is pictured). This handmade origami wall clock is a unique light-weight timepiece that fits in with any decor.
$42.00 Link to Store Page
Mini White and Honey Planter - Plant + Vessel
No green thumb? This planter is perfect for small cacti and succulents that are low-maintenance. The pot also absorbs excess water so you don't have to worry about drainage!
$22.00 Link to Store Page
UNIQUE GIFTS:
Sewing Lessons - Ronkita Design
Know someone who wants to get into sewing? These sewing classes and personalized lessons are scheduled when and where you want. For adults and kids, beginner to advanced skill levels.
$35.00/hr - $50.00/hr Link to Store Page
WHERE YOU CAN SHOP SMALL:
We've mentioned a bunch of really great artists and small businesses above for specific items (though you should check out their sites for more!). Here are some great places where you can shop small and support makers.
Caravan Co-Op  | Local Austin Retailer
This Co-Op is comprised entirely of independent women makers and shop owners. The selection includes: vintage, sustainable fashion, apothecary, handmade fiber accessories, fashion goods, Art & more.
Blue Elephant Boutique | Local Austin Retailer
Roots + Revival | Online Retailer of Makers and Artists
Thrifted Feels | Sustainable Fashion
WYLDE Vintage | Vintage Boutique
Here is the full list of vendors mentioned in this post:
Austin TX Hair Queen | Haircare
Instagram


Awkward Auntie | Home Decor
Bloom Studio | Handmade Jewelry
Blue Elephant Boutique | Local Austin Retailer
Caravan Co-Op  | Local Austin Retailer
Flame Candle Company | Candle Maker
Fringe & Flair | Turquoise Jewelry, Wandering Pop Up
Herland Home | Candle Maker
Knot in Texas | Fiber Artist
Lemon Drop | Children's Shop
Lola's Class Babies | Baby Wares
Milk Moon | Handcrafted Jewelry
Morgan Mars Vintage | Vintage Jewelry
New Origin Shop | Handcrafted Goods Retailer
Nina Berenato | Small Batch Sustainable Jewelry
Oso Art
Our Village | Plant-based Skincare
Plant + Vessel | Ceramics
Quiet Cricket Studio | Botanically Inspired Products
Ronkita Design | Sewing & Design Studio
Roots + Revival | Online Retailer of Makers and Artists
Shop Soul Rebel | Premium Handmade Jewelry
Sugarwoods Studio | Community Market, Vintage
Tawa Ties | Hand printed Bandanas
The Foxes Tail | Handmade Art & Goods
Thrifted Feels
WaxandWaneHandmade | Handmade goods with a modern edge
WYLDE Vintage | Vintage Boutique